CareerBuilder: An Excellent Tool for Job Searching
By
joecox (1257353596|%a, %b %e at %I:%M%p)
Founded in 1994, CareerBuilder has become the largest online job site in the United States with over 34% market share, resulting in 34 million unique visitors each month! It is jointly owned by the Gannett Company, McClatchy Company, and Tribune Company with Microsoft recently acquiring a small 4% stake last year.
So what makes CareerBuilder so great?
My CareerBuilder
Any user can create their own profile, including their resume and other relevant documents, and personal information such as your home address. This creates even more specific searches for each user.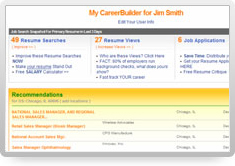 This will show a list of recommended jobs filtered by your profile, and also show your saved searches and jobs. You can review your past applications and manage your email subscriptions all on the My CareerBuilder home page.
Advice and Resources
CareerBuilder's advice and resource section can also be very helpful for their customers. It provides daily videos and articles regarding tips on how to better your resume or cover letter, including free resume reviews by professionals. This section also provides the user with trends and tools in the recent job market, and will set up alerts to inform them of new, relevant jobs posted.
The career tests section will allow you to test your skills in certain subjects, perform a self-review of your own skills, and rate your current career.
The career fairs tab will keep you updated on the fairs around your area, and show you what employers are looking to hire and where. CareerBuilder also provides you with tips on how to succeed at the fairs.
The Search
The CareerBuilder search capabilities and techniques do not seem to be anything too special, but I think the amount of resources it has is what really makes it unique. As you can see below, you can search by keywords, location, and category. The advanced search only adds the ability to search how recently the job was posted.
As of March 2008, Careerbuilder had resources with over 1,900 partners, including 140 newspapers, and online portals such as AOL and MSN.
In Conclusion
CareerBuilder has built a reputation for as the one of the best, if not the best, online job search tool available to the general public…all for free. It provides it's customers with many helpful resources to make their job hunt that much easier. I think connecting people with a job is a great act in itself, especially in this market, but connecting them with a job they like and one that fits them is awesome. CareerBuilder has taken big strides in doing just that.
Some of their competitors, other online job search sites, are: hotjobs, monster, indeed, craigslist, jobster, uloop, shine, and many others. Compared to these, I would rank CareerBuilder as a 8/10 overall, and give them a 7/10 for their search capabilities.
No need to put your name or date or anything else. Just put the blog content info here.
page revision: 2, last edited:
08 Nov 2009 14:32