Delicious vs Diigo
By
oish330 (1261692339|%a, %b %e at %I:%M%p)
Delicious and Diigo are both online bookmarking utilities that we briefly discussed in class 21 on Social Sites. These sites allow users to create a login and bookmark websites just as one would in any web browser. However, these bookmarks are not linked directly to users' computers so they are accessible from any web browser on any computer. Also, both Diigo and Delicious have Firefox add-ins, so users do not have to have a separate web page open to bookmark, it's as easy as a single click of a button.
Delicious is the vastly more popular of the two tools as illustrated by the below graph from Google Trends. However, Delicious has been clawing to maintain its users, consistently losing traffic over the past couple of years. Originally, the site was located at the del.icio.us URL, but in an attempt to make their site easier to use and prevent losing more consumers, they altered their URL to delicious.com. Obviously, this did not help out much.
Despite having issues with popularity, both these sites are very capable. There are a few key features when using a bookmark site and it is important to distinguish between the two most prominent ways of using these sites: bookmarking vs. discovery. Bookmarking is self-explanatory; use the site to save the locations of websites you want to visit later. Discovery is what makes online sites better than built-in browser bookmarking. This feature allows users to search bookmarks from all people using the site and find pages of interest. It also allows for browsing based on what is popular or recent, similar to social news sites like Digg.com. These features are available because of the tagging system used on both websites. Users tag pages, allowing themselves and others to find them later.
Let's look at their features briefly:
Delicious
The front page to Delicious is shown below. Overall, the site is very simple and easy to use with a clean user interface. This makes navigation simple and the learning curve to use the site not very steep.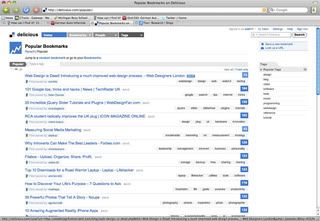 Features
Like I already mentioned, Delicious is a very simple site that intends to fulfill the basic bookmarking and social needs of its users. With this in mind, Delicious does a fantastic job. I personally like simplicity and Delicious unquestionably delivers that.
Delicious explains its feature set as:
Delicious is a Social Bookmarking service, which means you can save all your bookmarks online, share them with other people, and see what other people are bookmarking. It also means that we can show you the most popular bookmarks being saved right now across many areas of interest. In addition, our search and tagging tools help you keep track of your entire bookmark collection and find tasty new bookmarks from people like you.
Delicious keeps all your bookmarks in one place so you will never lose track of your bookmarks again. Since we store your bookmarks online, you can get to them from any computer, whether you're at home, at work or on the road.
Folders were the old way to organize your bookmarks. They were great if you only had a few bookmarks and a few folders, but as your collection grew, it became harder and harder to decide what goes where. Delicious has a new and better way: tags.
Tags are simply words you use to describe a bookmark. Unlike folders, you make up tags when you need them and you can use as many as you like. This means, for example, that all of the bookmarks you tag with funny and video will automatically be placed in the "funny" collection and the "video" collection. Since tags work the same way for everyone, you can also check out other people's "funny" or "video" bookmarks. You can even combine tags to see bookmarks with funny and video.
That pretty much sums it all up. The site's philosophy is that the best sites will bubble up based on the amount of users bookmarking and tagging them, and from these tags you can find the most popular subjects at any given time. Plus, users can share their favorite sites with their friends who are also using the site
Learn more at Delicious.
Thoughts
I have been using Delicious for nearly 4 years now on and off, and every time I come back to the site I realize how useful it is. I usually will still save my bookmarks to Delicious even if I am not going back to the site (thanks to the browser add-in), and then when I do revisit Delicious I find all kinds of interesting things. It can be easy to lose a few hours of time from the interesting sites that are becoming popular. For example, while searching for some new pages about German Autos, I quickly found this interesting article that I otherwise never would have came across. Yes, it has nothing to do with what I was ACTUALLY looking for, but it is news that would not pop up anywhere else.
Diigo
Features
Diigo works in very much the same way as Delicious. Users bookmark and tag websites and can also discover new sites based on what others are saving. However, Diigo has some cool additional features:
Highlighting - Highlight text on the websites you are bookmarking. Very useful if you run in to a website in the midst of some other work and bookmark it to check out later. I tend to forget why I bookmarked some sites, so highlighting could really help with that.
Add-in flexibility - Delicious only has a Firefox add-in. Diigo works on Firefox, IE, or Flock and the 3rd party bookmarklets supposedly work quite well too (Delicious' has these too, but not as functional according to this review.)
Commenting and In-document messaging - Users can add comments to web pages and others can view these comments. Additionally, you can see when another user is viewing a site and can instant message with that person about what you're both reading.
Twitter and Facebook functionality - Diigo makes is really easy to tweet or Facebook about a site with a one-click feature built in.
Bookmarking the entire page - Unlike Delicious (that just bookmarks the link to a site), Diigo bookmarks the whole thing. You can view sites within Diigo and search for text within sites through Diigo.
Learn more at Diigo.com.
Thoughts
Diigo is pretty incredible. It is one of those sites that a person uses and thinks "it would be great if Diigo did…. OH IT DOES." What I mean is that the creators of this site have definitely spent time to understand the desires of users and have created a feature set that speaks incredibly well to those users. This is the kind of site I love to use. By the way, the Diigo toolbar is VERY easy to use, even with all the additional features. In fact, it may be a bit nicer than the Delicious toolbar.
Conclusion
Before writing this blog I had no experience with Diigo. After working with it, there is no question in my mind that it is a more capable tool than Delicious. Although I like Delicious' simple user interface, Diigo is not much more complex and it is significantly more feature-packed. I think I'll be making the switch…
Other competitive sites to check out
page revision: 0, last edited:
24 Dec 2009 22:05