Microsoft & Google Unveil New Search-Engine Tools
By
bavidar (1253122877|%a, %b %e at %I:%M%p)
This week Microsoft and Google released new search products that allow users to visually see what they are searching for. Microsoft Bing's introduced the tool "visual search" which features images instead of text. Google introduced "Fast Flip" which creates an experience similar to reading a magazine online.
---
Google's Fast Flip
---
Fast Flip allows users to scan news articles from 39 different print and online publishers. User's can flip through pages just like a magazine.
Google says the idea behind the new service is to make online news-browsing faster and create a new and better experience.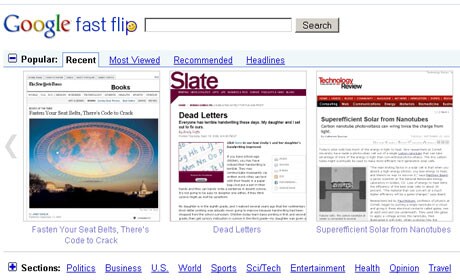 How to Use?
To use the new Fast Flip all you have to do is go to Google Labs and add the new tool called Fast Flip. Users who visit the Fast Flip site see large thumbnail images of different articles sorted by their source, topic, or current popularity. The best part of Fast Flip is that all the articles load extremely fast.
My Thoughts

Fast Flip is Awesome. It basically gives you a preview to many articles on any topic you want and lightning speed. The articles load quickly that you can just flip through them like a magazine. The only down side is that when you find an article you want to read, you have to load the article page (which may take more time). However, overall this is a great new product that Google has created.
---
---
Bing unveiled a new visual search service, as it seeks to win market share from Google. The new search feature allows users to search for information using image galleries rather than just text. Initially, users can search the categories for: travel, leisure, shopping and health.
How to Use?
Visual search is currently only available in beta to Bing users but will hopefully expand to all users soon. Its relatvily simple to use but requires a few plug-ins that most people might not have and may be skeptical to download.
My Thoughts

Bing is new. Bing is cool, but it still has the same old Microsoft feel. My first time trying Bing's Visual Search i was immediately prompted to install Silverlight and not until i had to restart my computer twice and reinstall Bing, berewas I able to get the Visual Search to work. As much as I am a fan of Microsoft, I just don't think that Bind has the capability to compete with Google in the Search Industry.
Conculusion
New products such as these show that the search-engine market is growing and diversifying.
Bing has taken an 11 per cent share of the US search market in the three months since its launch, making it the fastest-growing search engine in > the United States.
Google, which accounts for 65 per cent of the search market, grew its share by 2.6 per cent in the same period.
---
page revision: 53, last edited:
08 Nov 2009 14:37