The Most Important Aviation News of 2009
By
mkeagy (1261409149|%a, %b %e at %I:%M%p)
Year in review…
Much can change in the commercial aviation industry in a year, and 2009 was no exception. Here are the top 3 news stories (in my opinion) of 2009, brought to you by the search tools demonstrated on this site.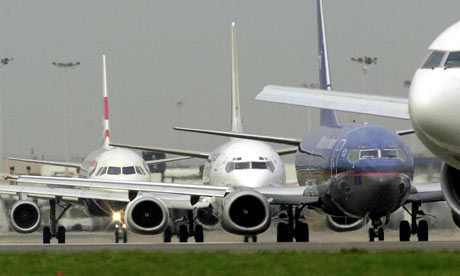 1. Northwest/Delta Merger: SiloBreaker
SiloBreaker has become my go-to site for business news so it is approriate that it provides a wealth of information on the top aviation story of the year. A search for Northwest Delta Merger is a great place to learn about the merger for the first time but there is also enough content to educate even an industry analyst. Some key features to SiloBreaker include:
Geographic Hot Spots
Company Topic Trends
Blog Results
Quotes
Documents
2. US Airways Flight 1549: Truveo
The "Miracle on the Hudson" is undeniably one of the news stories of the year. Capt. Chesley "Sully" Sullenberger became a national hero and household name after safely landing his Airbus A320 in the Hudson River after a birdstrike while departing LaGuardia airport in New York. However, as the wonder of such a "miracle" wears off, the accident brings many industry issues to the spotlight, including commercial pilot experience (or lack thereof), reliability of fly-by-wire technology and the length of pilot duty days.
Truveo is an excellent source of information on flight 1549. The video search engine amalgamates videos from across the web into a simple, well-organized list of search results. Sources include major news channels, as well as user-generated video from sites like YouTube. The advanced search capability allows you to pick and choose which sources to search as well.
3. Continental leaves SkyTeam for Star Alliance: NewsSift
The decision of Continental Airlines to leave the SkyTeam alliance and switch to the Star Alliance has created quite a bit of speculation as to the future outlook of the airline industry. By leaving its alliance with rivals Delta and Northwest and partnering with United, a merger between Continental and United could come fairly soon. Despite a failed merger attempt in 2007, the switch to Star makes a Continental/United merger much more likely in the future.
NewsSift is a great go-to news source for all news regarding Continental and Star Alliance. The search query can be narrowed down to include only news related to Continental and Star Alliance and there are many additional features, including:
Article Sources
Top Trends
Top People
Top Organizations
Top Themes
Sentiment
page revision: 0, last edited:
21 Dec 2009 15:25